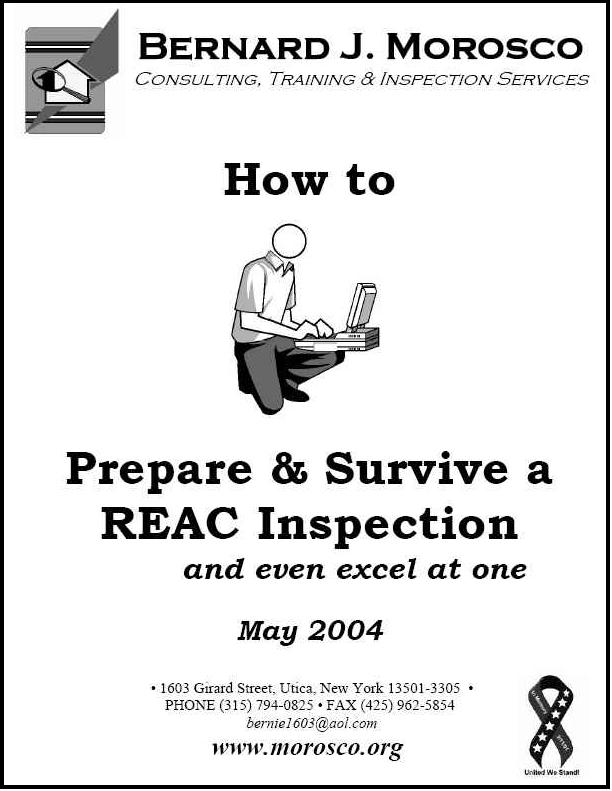 How to Prepare & Survive a
REAC Inspection
and even excel at one
UPDATED February 2011
Key Benefits
| | |
| --- | --- |
| | Designed to help any property that is subject to HUD REAC Inspections to score better by showing you some information regarding the inspection process that you may not be aware of |
For Example
~ REAC NOW INSPECTS (AS OF FEBRUARY 1, 2007) OCCUPIED UNITS WITHOUT UTILITIES. Get the letter that REAC
still has not made public on their web site.
~ Did you know that REAC Inspectors have a "code of conduct" that must be adhered to and you can
terminate and inspection if it is violated?
~ Did you know that Common Buildings (buildings on the property without apartments in them) are
ALWAYS inspected by REAC Inspectors?
~ Scoring secrets.....did you know that currently REAC does not deduct points for tripping hazards in your units?
Valuable Information in this document
· REAC Basic Recording Structures
· Preparing your property for the "REAC" Inspection
· How to deal with a rude, difficult inspector
· Narrowing the window - determining what is in fact inspected?
· Large Impact (Points) List
· Official REAC Interpretations that are NOT public knowledge
· Pre-Inspection Strategies
· Post-Inspection Strategies
· Sample Forms (Resident Owned Appliances, etc.)
· Sample Appeals that have actually worked and returned points.
CURRENT PRICE
| Description | SKU # | Price |
| --- | --- | --- |
| REAC Inspection Prep Guide | sku-2 | $99.95 |
| 1st year of updates | sku-2 | FREE |
click HERE to download order form
or contact bernie1603@aol.com